The Red Strings Club is a captivating 2D pixel cyberpunk adventure game available on Steam right now.
Drop everything you're doing. Buy it. And more importantly, play it. Right now.
The Red Strings Club is a cyberpunk narrative experience about fate and happiness featuring the extensive use of pottery, bartending and impersonating people on the phone.

Devolver Digital
The one-line pitch simply does not do The Red Strings Club justice. This has to be the most thought-provoking, philosophical game I've played to date, and I'm two years late to playing it. The game was crafted in 2018 by Indie developer Deconstructeam (published by Devolver Digital) — it was made by four people.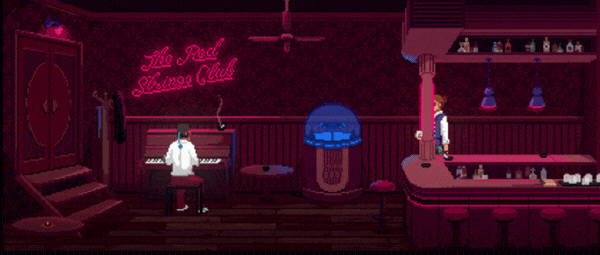 This narrative is not dozens of hours long like a AAA cyberpunk game that released recently. Hell, it's not even in the same league. The Red Strings Club took Cyberpunk 2077's narrative out and dumped it at a Ripperdoc's doorstep to strip it for spare parts. This is a character-driven narrative that sticks within the limits of its primary cast to deliver something truly breath-taking.
What The Red Strings Club lacks in length, it makes up for with power, with subtlety, and distinct moral dilemmas. There are times where you, playing as either Donovan, Akara-184, or Brandeis, will be posed a dilemma that you will inevitably have to respond to. The game reacts accordingly. Its art direction is unique and eye-catching, its music is utterly sublime, and its gameplay (while simplistic) is utterly charming.
You have not played something as impactful as this. And you need to rectify that right now.
So go to Steam, GOG, or the Nintendo storefront, and play The Red Strings Club.