2020 is the year of biblical-levels of disaster. From fire, to COVID-19, and now my home state is looking at flooding for most of April. Since the news has taken over television, and you've probably binged most of the content available on Netflix, you may be wondering 'what's left for me to consume?'.
One word: ANIME.
If you're looking to dip your toes into anime, here are some of my personal favourite English dubbed shows, in the order I discovered them.
1. Fullmetal Alchemist: Brotherhood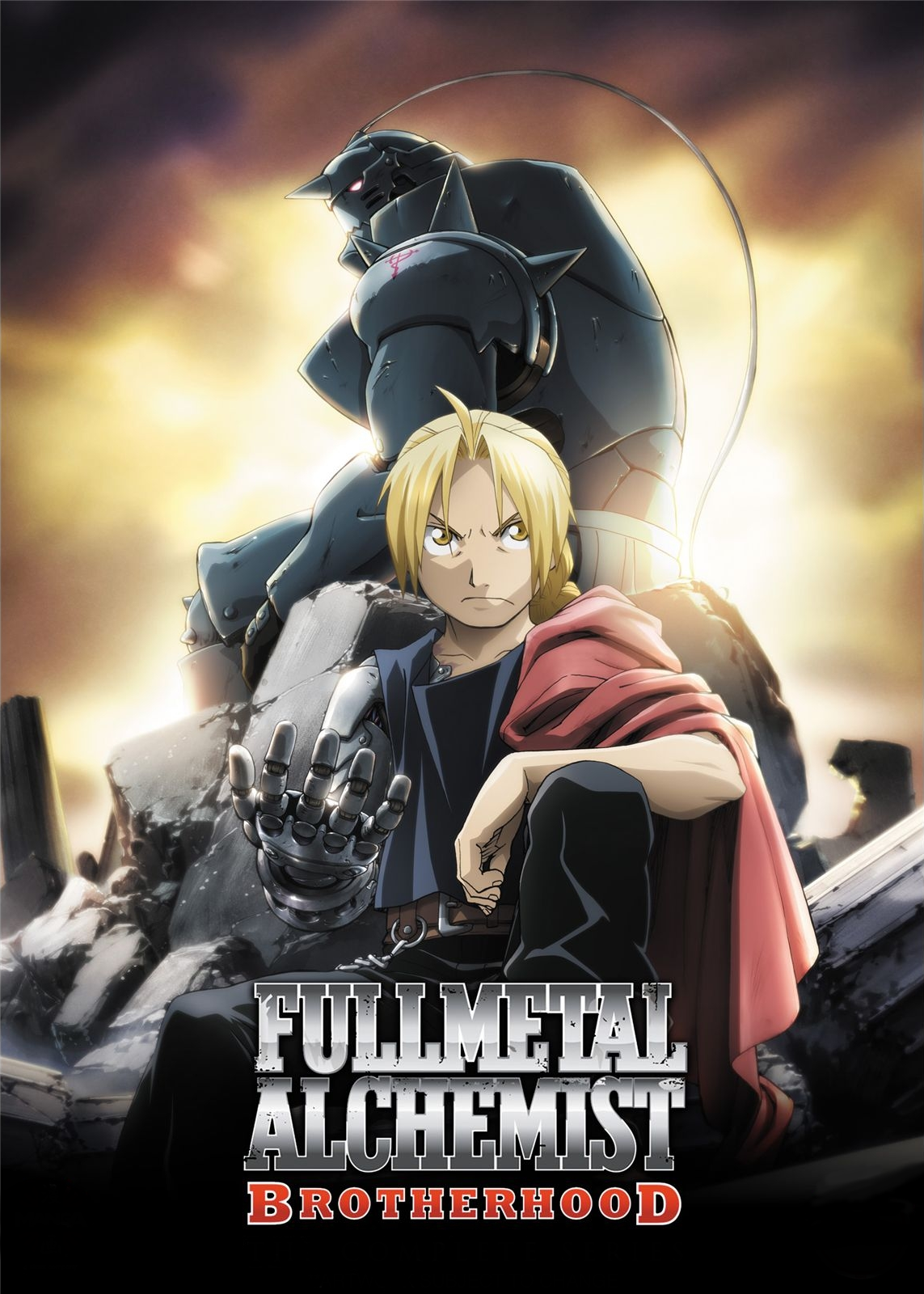 Google summary: Brothers Edward and Alphonse Elric search for the Philsopher's Stone, hoping to restore their bodies, which were lost when they attempted to use their alchemy skills to resurrect their deceased mother. Edward, who lost only limbs, joins the State Military, which gives him the freedom to continue the search as he tries to restore his brother, whose soul is tethered to earth by a suit of armour. However, Edward and Alphonse are not the only ones seeking the powerful stone. And as they search, they learn of a plot to transmute the entire country for reasons they cannot comprehend.
FMA:B was my first anime ever, and I still come back to it on a rainy day. With 64 episodes under its belt, it's well worth sinking your teeth into. And if you're still hankering for more, consider stepping back and taking a look at the original Fullmetal Alchemist released in 2003 — it starts off the same, but takes a different direction with the story (as the manga hadn't been completed by the time the show was put on air).
Available on: AnimeLab (FMA 2003 available on Netflix)
What to expect? Blood, gunfire, laws of equivalent exchange, a whole lot of "WHY AREN'T THEY DEAD YET??", wholesome brotherly moments, and soul-searching (literally).
People you might recognise: Video game and (English) anime greats. Travis Willingham, Troy Baker, Laura Bailey, Colleen Clinkenbeard, Todd Haberkorn, and Vic Mignogna, just to name a few.
2. Voltron: Legendary Defender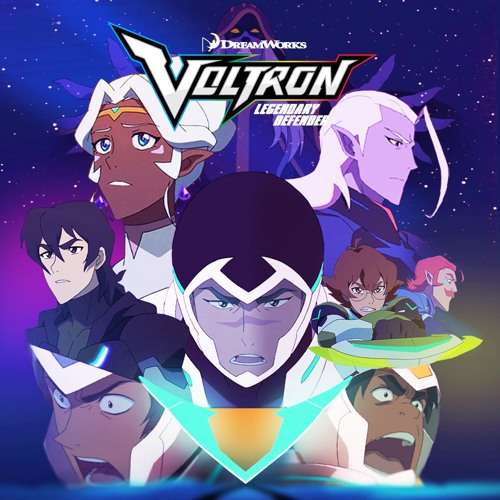 Google summary: Teenagers transported from Earth become pilots for robotic lions to fight in an intergalactic war. The Paladins of Voltron must learn to work as a team to assemble the robot Voltron and use its power to conquer the Galra Empire.
Debate is up whether this one is technically considered an anime, but if you've come off the back of FMA:B, and you're new to anime your eyes recognise Voltron as just that: anime. With an incredibly passionate (and sometimes overbearing) fanbase, Voltron: Legendary Defender cemented itself as one of Netflix's staple shows in the late 2010s. It has roughly 70 episodes in total and will keep you hooked for days.
Available on: Netflix
What to expect? Space — lots and lots of space. Magic as Altean engineering. Paladin bonding exercises. Season 6 highs, season 8 lows.
People you might recognise: Steven Yeun (Glenn in AMC's The Walking Dead) has a major role. Gamers may recognise actors Nolan North (Uncharted), Kimberly Brooks (Mass Effect), Josh Keaton (every NPC character ever) and AJ LoCascio (Telltale's Back to the Future).
3. Bleach
Google summary: Ichigo Kurosaki never asked for the ability to see ghosts — he was born with the gift. When his family is attacked by a Hollow — a malevolent lost soul — Ichigo becomes a Soul Reaper, dedicating his life to protecting the innocent and helping the tortured spirits themselves find peace.
Bleach was promoted a bunch while I watched FMA:B online through unofficial sources, but I only got into the show as of early last year. Netflix had just released their live-action Bleach film, and I had no context upon which to base my assumptions. Bleach's anime is a bit of a mixed bag, however, as hard-core fans will inform you most of the anime's arcs are original only to the anime, and have nothing to do with the manga. To be honest, this is probably the only anime I didn't finish, as I got frustrated quickly with the almost-7-minute episode recaps when creators were evidently running out of material to write episodes for. That might sound like a negative thing, but rest-assured, if you're looking for someone to take up your time, Bleach is worth the watch.
Available on: Crunchyroll (Japanese sub only). I can't find a streaming service with the English dub available, so this may be one of those "you wouldn't steal a car…" situations.
What to expect? A lot of talk about death, souls, bankai, and reapers. A lot of blood, a lot of "there's no way you're still alive how the fuck are you standing right now" injuries. A lot of bad-ass mofos with unconventional weapons and powers. I also found myself yelling "why haven't you called Urahara for help you fucking idiots" at the TV a lot, but that's probably just me.
People you might recognise: There are so many voice actors that have appeared on Bleach, you might end up recognising several voices over the shows' hundreds of episodes. From the primary cast, you may recognise Johnny Yong Bosch and Stephanie Sheh (Devil May Cry).
4. Kiss Him, Not Me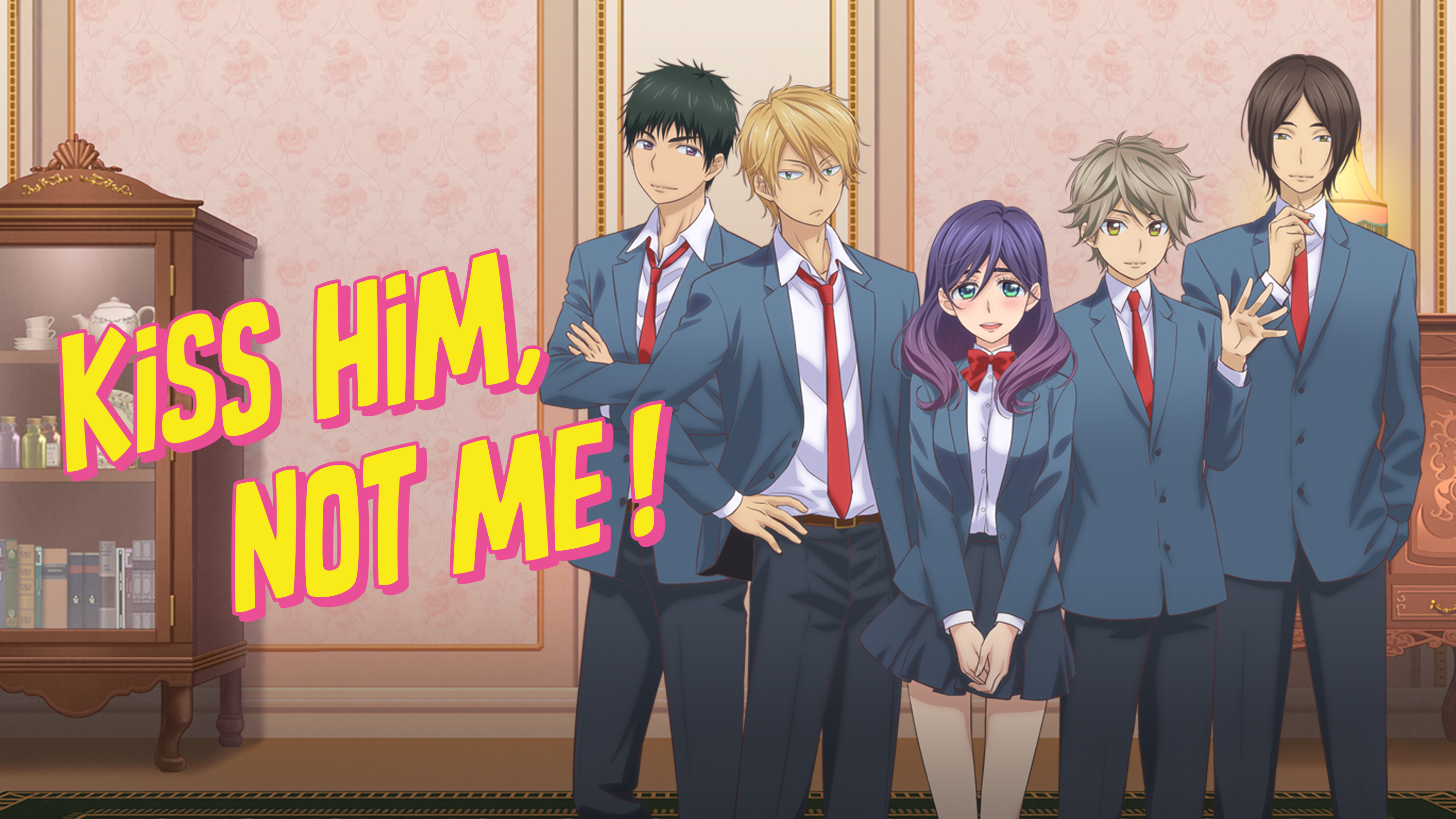 Google summary: When one of her favourite anime characters is killed off, Kae is so shocked that she locks herself in her room for a whole week. When she eventually comes out, she discovers that she has lost a lot of weight. She becomes a beautiful girl that catches the eye of four boys at her school: Yūsuke Igarashi, Nozomu Nanashima, Hayato Shinomiya, and Asuma Mutsumi. Despite learning about Kae's bizarre tendencies, the four boys all fall for Kae and begin competing for her affection, much to Kae's frustration as she wants them to fall in love with each other.
Ah, my first romantic comedy anime. I stumbled upon this during my search for something light-hearted, and my god, did it deliver. Kiss Him, Not Me is not an action show, it's all about fan-girl drama. The anime is about 12 episodes long, but if you're a fan-girl who often uses Tumblr, this one is for you.
Available on: AnimeLab
What to expect? Fan-girling. A lot of it. Suggest of yaoi pairings. Finding and overall acceptance of self. A lot of talk about weight.
People you might recognise: If you recognise anyone from this voice cast, you've watched a lot of anime.
5. Free!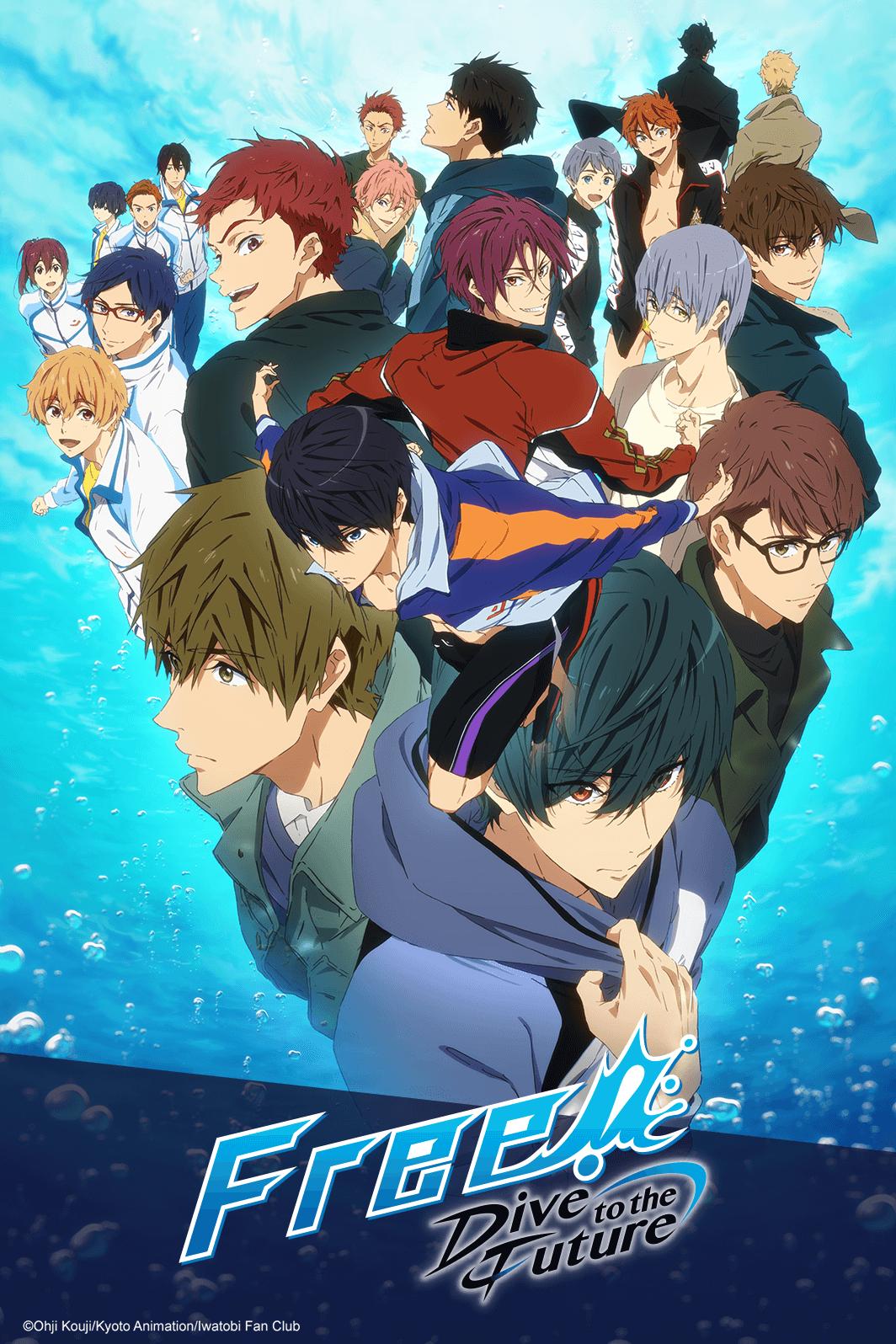 Google summary: Haruka Nanase and Rin Matsuoka are both gifted swimmers who are friends, but fierce rivals in the pool. Their lives and the lives of their friends are chronicled as they compete alongside and against one another from elementary school through high school. 
I put on Free! as something to play in the background, but it quickly became one of my favourite animes. I didn't think a show that centred only around swimming could be at all interesting, but it is. It's a real testament to the show's creative team that this show is as good as it is.
Available on: AnimeLab (seasons 2 and 3 only), Crunchyroll (season 1 English dub, seasons 1-3 Japanese sub)
What to expect? Swimming. Swimming competitions. Water. Team bonding. Kids over-coming their fears and chasing their dreams.
People you might recognise: Todd Haberkorn, Johnny Yong Bosch, Vic Mignogna. Jerry Jewell (Fullmetal Alchemist: Brotherhood) also shows up around season 2.
6. Yuri!!! On Ice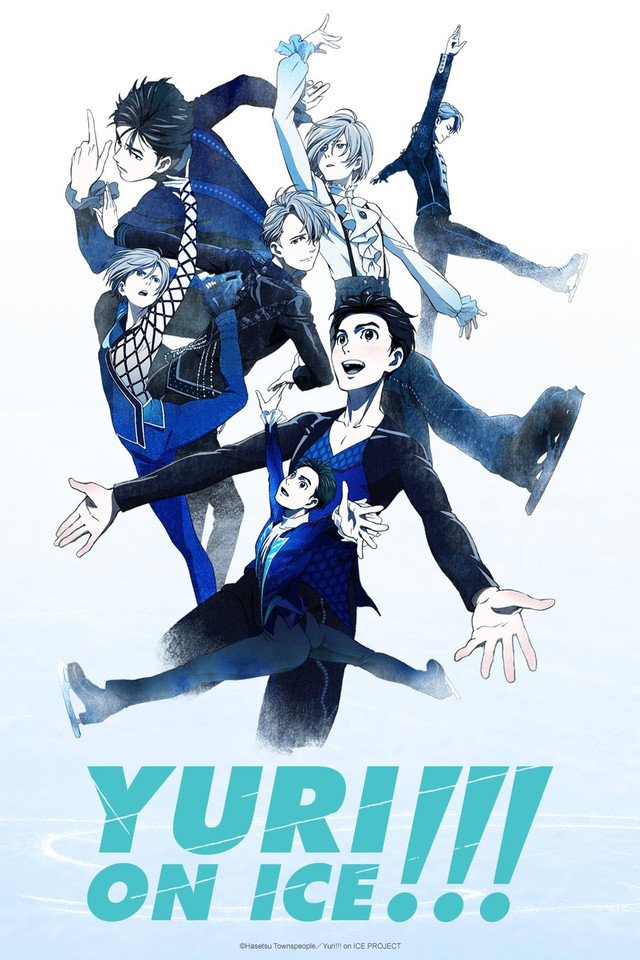 Google summary: After a crushing defeat in the Grand Prix Final and other competition losses, 23-year-old Japanese figure skater Yuri Katsuki develops mixed feelings about skating and puts his career on hold. Returning to his hometown of Hasetsu in Kyushu, Yuri perfectly mimics an advanced skating routine performed by his idol: Russian figure skating champion Victor Nikiforov. When secretly recorded footage of Yuri's performance is uploaded to the internet, it catches Victor's attention, and he travels to Kyushu with an offer to coach Yuri and revive his figure-skating career.
I'd heard a lot about Yuri!! On Ice thanks to Tumblr, but I'd never actually seen anything from the show. Well, an idle curiosity one night after a few episodes of Free! resulted in me binge watch the entire series in six hours. That's code for: I started this at about 11pm and couldn't stop watching until I finished the whole thing at 4am. There's only twelve episodes, but you're gonna love them.
Available on: AnimeLab
What to expect? A lot of sweet Russian accents, relatable stage anxiety, acceptance of self, mature discussion of sexual expression.
People you might recognise: Strangely enough, you won't recognise many off the bat. Colleen Clinkenbeard has a sizeable role, and Vic Mignogna sticks out like a sore thumb in ep 11.
Cheapest subscription costs